Bug #470
Orangutan records vs. Charts info
Assignee:
Andriy Lesyuk
---
Description
Something wrong with Log Records from Redmine and Orangutan.
@ On Chart bars IS NOT SHOWN INFO FROM Orangutan @
Here is test variants:

1) You have issue
2) You have logged time entries from Redmine
3) You have time entires from Orangutan
4) ON Charts (Logged hours deviations) IS SHOWN ONLY time information from Redmine
#431 (Logged from redmine and Orangutan)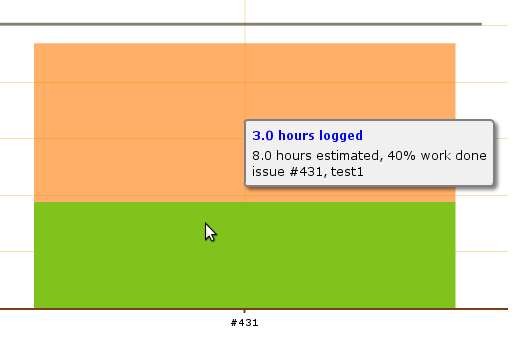 1) Log(track) time from Orangutan to this issue
2) As result issue is not SHOWN in Charts. (new issue from redmine )
#432 (logged from Orangutan - not visible in Charts),
#434 (logged only from redmine)



, and you have no LOG records from Redmine, BUT only from Orangutan, reported issues will not shown in Charts
PS. There is trick - ISSUE will shown in CHARTS if it has ESTIMATED time.
Every issues, I've created, is coming with estimated time.
History